For Sale
email addresses have been modified to prevent harvesters from collecting them.
Replace _AT_ and _DOT_ with @ & . respectively.
---
Shooting Mats & Glove
Contact: Randy Scott
Cell 440-725-0983
9250rcs_AT_gmail_DOT_com
CHAMPIONS CHOICE SHOOTING MAT
Used once at Camp Perry. Basically brand new condition but has some marks from grass.
32" x 68" with grippy rubber in key placed.
New $85 Sell $40

NC STAR SHOOTING MAT.
Really nice well made mat for NC Star. 36" x 70". Folds as shown or can be rolled up. Never been out of the house.
Model Number CVSHMR2957U
New $33, Sell $20

CHAMPIONS CHOICE SHOOTING GLOVE
EXTRA large. Was used in one match at Camp Perry.
Excellent condition with obvious marks from rifle.
$24 new, sell $10.
---
Want to Buy
Mossberg or Remington 410 ga. pump shotgun.
If you have one to sell, please contact
Mark @ 440-272-5604 and leave a message

or
markt151_AT_yahoo_DOT_com
---
Black Powder Supplies


I have: a breech plug wrench; thirty five 50 grain Triple 7 pellets; three new 1/4 turn breech plugs; and 116 #209 primers.
Asking $100 for the lot, or best offer. (The breech plugs are $50 each from Traditions.)
Contact Richard at
rrow9491_AT_yahoo_DOT_com
---
A set of three (3) Action Target Practice Stands

Stands are made of ½ " steel. They are 12" in diameter
Heavy but, carry easily.
Seen limited use.

Price $125.00 for all three (3)

Contact: Joe Marella @ Jmarella_AT_twc_DOT_com or 440-710-4192
---
32" Browning Citori XT Trap grade I
over/under with adjustable comb and adjustable LOP Gracoil (GC15LP), ported barrels, adjustable trigger, five invector plus flush mount choke tubes (2 Full, 2 Imp Cyl, 1 Imp Mod). Some wear use and marks on wood but in great working condition. Includes a SCB hard case. $2,100.00
Contact Brian Stern – Call/text 216-849-7854 or email brianhalfiron_AT_roadrunner_DOT_com.
---
Custom 458 Winchester Mag Express Rifle

Controlled Feed Mauser Action.
Ammo included:
48 rounds of Winchester 500 grain,
48 rounds of Hornady 500 grain,
20rounds of Barnes 500 grain super solid

Express Rifle actions are operated at the shoulder. This requires practice with
reduced recoil ammo. For this purpose, I have included 4 boxes of low recoil
458 from Farnsworth Ammunition. Hunting ammo averages $85 a box and is included.
Total Price: $1,000

Contact: Rick Bauer at (440)354-6713
---
Hoyt Youth Bow
purchased in 2013 in winter realtree camo.
Draw length:18-28"
I believe lbs is: 25-45 but not for sure. My wife has the exact same model in blue and loves it, but the son has outgrown his.
Comes with everything you see including case, arrows, quiver, trigger and assembled items on bow.
Come and shoot it and we will set it up for you if you are interested.

Asking $175 obo

Jonathan McKenzie
216-551-8344 call/text
Email: jonathan_DOT_mckenzie_AT_yahoo_DOT_com
---
Bullet Casting Lead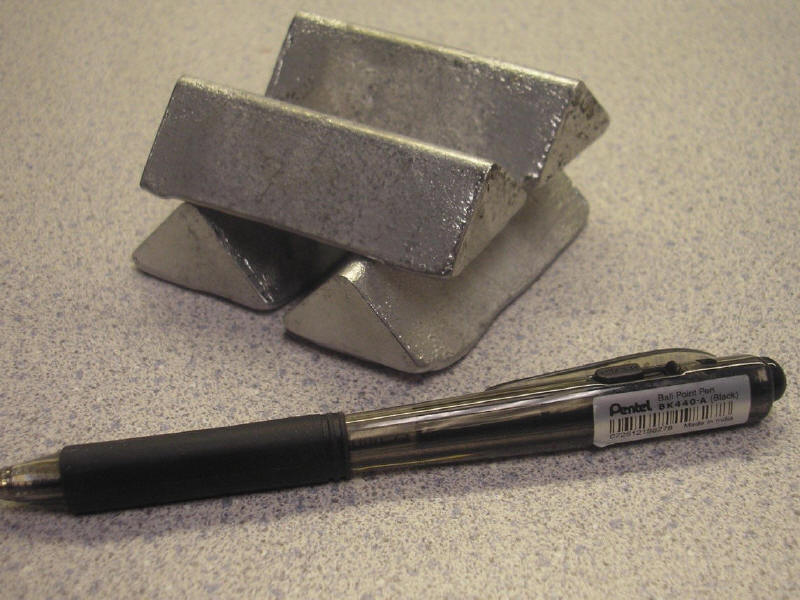 Reclaimed indoor range lead.
Clean and suitable for bullet casting.
No minimum quantity, $1/pound
440-479-9136 or 440-479-3231
---
Mitchell Arms High Standard-Citation II .22LR
Stainless Steel - 5 1/2" Bull Barrel - with 4 magazines
$400.00 or trade for the right 9MM
Call Brett at 440-357-8041 or
email brett_AT_wakinggiant76_DOT_com
---
e-mail crooked_DOT_creek_DOT_email_AT_gmail_DOT_com to add an item.
---
Any comments, additions or corrections can be sent to Bud Connolly crooked_D_O_T_creek_D_O_T_email_A_T_gmail_D_O_T_com or 440-259-3512.